MultiCompany extension for vtiger CRM
Allows you to setup multiple companies with unique records numbering for each company in one installation of vtiger.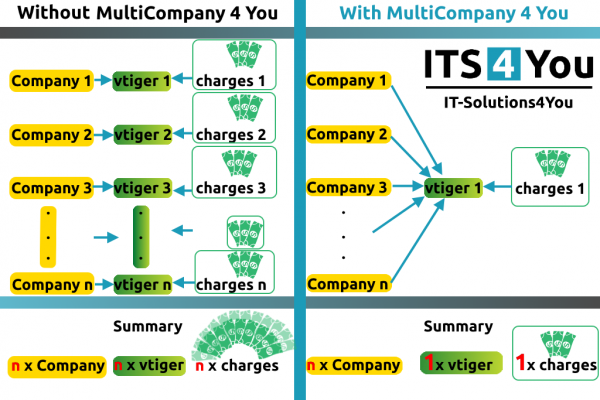 module allow in easier way to manage your companies within one vtiger CRM installation. It means you can define additional companies (name, address… and lot of additional fields) and create new records under these companies. In addition, records related to the new companies can be separately numbered with their specific prefix according to your needs. This helps you no more to mix records of different companies and gives you better overview
The MultiCompany benefits
supported mostly for all standard vtiger modules as well as custom modules
no necessary extra installation for additional companies
save money by buying extension tools ones, not per company
no necessary logout for switching between companies (depends on user)

Please try to answer by yourself to following questions to see whether MultiCompany can make your business life easier:
Would you like to use one installation for more companies?
Would you like to be able to define separate numbering of the records for your companies?
Are you missing some additional fields in company details?
Would you like to have separate numbering of the records for different users?
If you mostly answered yes it looks that you are good candidate to use our module MultiCompany. Also from our experience we see that our module is required also for "one-company installation" due to their features.
With membership/subscription you will have access to latest versions of extension for all vtiger version 5.x, 6.x, 7.x ( and higher). After subscription your extension will continue working without problems, but you won't get support or updates. Duration of subscription is 1 Year.
Read more about subscription

Find manual for version of vtiger that you need
Try our extensions on our demos